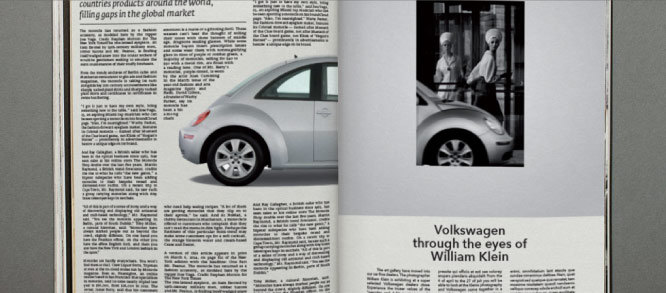 A promotional campaign for Volkswagen with a collaboration with the photographer William Klein. This campaign consist of several pieces, shown here are a print ad in a cultural & business oriented magazine and a snapshot from a Volkswagen car dealer.
The idea is to present a special photo session by Kleins at selected VW car dealers. This aims to widen the target group and potential buyer for Volkswagen. This campaign also aims to broaden the recognition of William Klein.
This was an assignment done by me in the course Art Direction in Advertisement and Digital Media at Idep Barcelona. I have extended the project after the final presentation.
(Important information: Non of the pictures shown here are the owned by me, I have used these pictures without permission).
Published by: Daniel Eriksson in Blog